Testing of Lifting Magnets to AS4991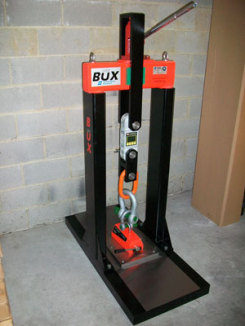 Alpha Magnetics is able to test all SAV NEO and Walker Bux Lifting Magnets** to ensure that they are still performing at their rated capacity.
Our specially designed test rig, manufactured by Walker Hagou Magnetics in Europe has a 10,000kg capacity.
This allows lifting magnets to be tested according to Australian Standard AS 4991-2004 which requires a tear-off force of at least 3 times rated capacity for permanent lifting magnets and at least 2 times rated capacity for battery-powered lifting magnets.
It is recommended that magnets are tested once a year.
A Lifting Magnet Test from Alpha Magnetics consists of a break-away test of the magnet on a flat, mild steel test piece, a visual inspection of the magnet, and production of a Testing Certificate.
** We also test other brands of magnetic lifters.