Misc. Magnets and Materials
We stock a range of miscellaneous magnets such as name badge magnets and adhesive flexible strip.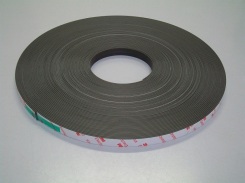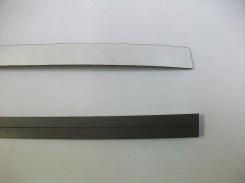 Flexible Magnetic Strip
12.5mm wide x 1.6mm thick
Rolls are 30 metres long or buy by the metre.
Magnetic side sticks to steel surfaces. Self-adhesive side sticks to your other item e.g. a lightweight sign.
If you wish one magnetic side of the strip to stick to the magnetic side of another piece of strip then you need to buy a part "A" roll and a part "B" roll. This is so that the strips line up properly for maximum magnetic strength. i.e. the strips can be bought as a "matched pair".
30 metre long roll : $52.50 + GST ($57.75 inc. GST)
Or per metre : $4.50 + GST ($4.95 inc. GST)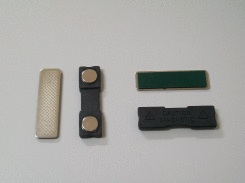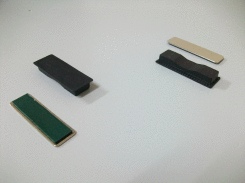 Name Badge Magnets
Name Badge magnets protect clothing by removing the need for pins on name badges.
Name Badge magnets come in two parts:
The metal plate has adhesive tape for sticking to your name badge.

The plastic part containing magnets sits on the inside of your clothing to hold the badge in place on the outside of your clothing.
There are two styles to choose from, the first has the magnets exposed and the second has the magnets fully covered in plastic.
Caution: Magnets can affect Pacemakers. Use of name badge magnets by pacemaker users is not advised.
$1.80 + GST each ($1.98 inc. GST)
Special Quantity Price for pack of 100 pieces: $135 + GST ($148.50 inc. GST)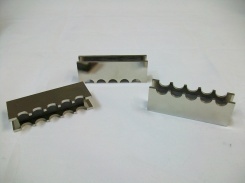 Tank Magnets
These oil cleaning magnets attach by their flat side to the inside wall of hydraulic tanks. The serrations on the opposite side concentrate the magnetism and provide a large surface area to catch and hold ferrous contaminants.
90mm length: $30.00 + GST ($33.00 inc. GST)
178mm length: $40.00 + GST ($44.00 inc. GST)
Call us on (03) 9729 8633 or email us for information or pricing.