Magnetic Printing Cylinders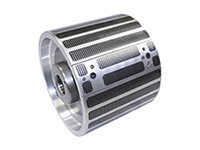 Bunting Magnetics Co. manufacture a wide range of Magnetic Printing Cylinders that can turn your existing printing press into a better, more productive press.
The cylinders are embedded with powerful permanent magnets to grip flexible steel-backed plates and dies to hold them securely in place, allowing faster changeover times between jobs.
Working closely with major press manufacturers for over 30 years has ensured that Bunting cylinders conform to OEM specifications.
For the full range of magnetic printing products, visit the Bunting Magnetics web site: www.buntingmagnetics.com.