In-Line Magnets
- Pneumatic or Gravity
Bunting Gravity and Pneumatic In-Line Magnets allow the product stream to pass unobstructed through the magnet housing. Tapered transitions guide material directly over the face of the hinged plate magnet, which swings away from the housing for quick external cleaning.
Bunting Centre-Flow Magnets feature a removable conical shaped magnet suspended inside the housing and are used in dry particulate pneumatic lines.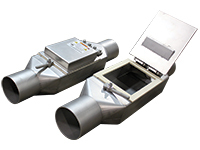 Gravity In-Line Magnets
These magnets allow you to utilize our powerful Plate Magnets in round, sloping spouting where material is under gravity flow. For effective tramp capture, spouting should be angled no more than 60° from horizontal.
Pneumatic In-Line Magnets
These Magnets are designed for use in dilute phase pneumatic conveying systems. They work best in horizontal runs with the plate magnet down to take advantage of material stratification. Powerful rare earth Plate magnets are standard and swing out for easy cleaning.
Centre-Flow Magnets
Center-Flow In-Line Magnets remove ferrous fines as well as larger pieces of tramp iron from dry particulates as they travel through dilute-phase pneumatic conveying lines.
A removable conical shaped magnet is suspended inside the housing for optimum contact with the product.