Magnetic Tools & Accessories
A selection of useful Magnetic Tools and Accessories.
Hand Magnet
A magnetic pickup tool for lifting and handling small ferrous parts, bolts, nuts, washers etc. Easy to use with a rugged long lasting construction with cast aluminium body. Parts are removed by lifting the release handle.
Dimensions: 110mm sq. x 210mm h
Weight: 2.2kg
$144 + GST ($158.40 inc. GST)
​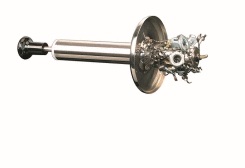 Laboratory Magnetic Tester
A quality control tool powered by high intensity rare earth magnets for testing powdered and granulated products for ferrous contamination. Simply pass tester through material sample and ferrous material will magnetically attach itself to the end of the stainless steel tube.
To examine any particles of ferrous contamination simply point the unit upwards and pull the handle downwards. As the magnet retracts, the particles are brought down the tube and collect on the stainless steel inspection tray.
Dimensions:
Tube Diameter: 25.4mm
Tray Diameter: 90mm
Overall Length: 240mm
$198 + GST ($217.80 inc. GST)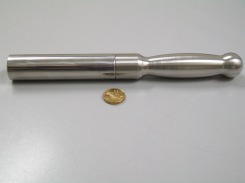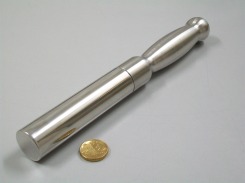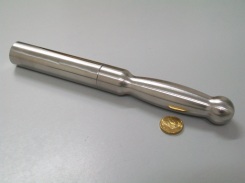 Rare Earth Magnetic Probe 11,000 Gauss
Extremely strong magnetic tube with handle can be used as a quality control or sampling probe.
25mm dia x 100mm long magnetic tube attached to 125mm long solid stainless steel handle.
Simply wipe off collected material with a cloth or glove.
316 stainless steel tubing and handle.
Tube and Handle also available for purchase separately (with thread at one end, please enquire).
$247 + GST ($271.70 inc. GST)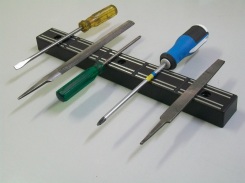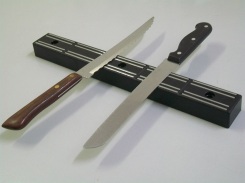 Magnetic Tool / Knife Holder
An economical Magnetic Holder for Tools or Knives. It has a sturdy plastic body with steel magnetic strips to grab and hold your items. Comes with screws and plugs for fixing to your wall.
Colours available: BLACK
Length: 357mm
Width: 43mm
Height: 26mm
$20 + GST ($22.00 inc. GST)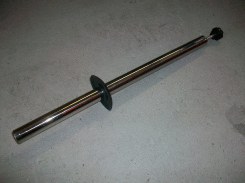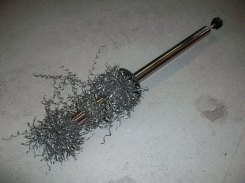 Magnetic Swarf Collector
A stainless steel magnetic tube for collecting ferrous swarf from around the workshop. Catches and holds swarf from drilling, grinding and milling machines, benches, floors etc. Will also pickup nails, screws, nuts, bolts, washers etc.
Simply pull the handle to withdraw the magnet inside the tube and past the rubber ring and the material falls off.
450mm tube plus the handle gives an overall length of 505mm
Weight: 500g
$89 + GST ($97.90 inc. GST)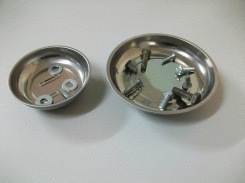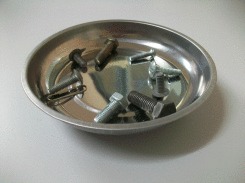 Magnetic Parts Bowl
A stainless steel magnetic bowl for holding small ferrous parts such as screws, nuts, bolts, washers etc. The inside of the bowl is magnetic to hold parts.The rubber covered rear of the bowl is magnetic to stick to steel surfaces.
Prevents parts being lost while you are working on a job.
Small (~107mm dia) $5 + GST ($5.50 inc. GST)
Large (~148mm dia) $9 + GST ($9.90 inc. GST)