Magnetic Liquid Traps
Bunting Magnetic Liquid Traps remove ferrous tramp metals from liquid processing lines. Different styles available for non-fibrous, non clogging liquids or for fibrous and viscous liquids.
Housings to fit 2", 3" or 4" lines or special In-Line Traps to suit 3" or 4" lines. All styles built with high temperature and high strength rare earth magnets as standard.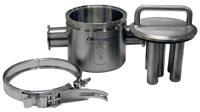 Cartridge Style Liquid Trap
Liquids are forced through a tightly spaced grid of magnetic cartridges to ensure close contact between the product and the magnetic field. Cartridge-Style Liquid Traps are intended for use with non-fibrous fluids. Ferrous tramp is attracted to and held on the cartridge surfaces. For cleaning, you simply remove the cartridge-lid assembly from the trap housing and wipe off the collected metal particles.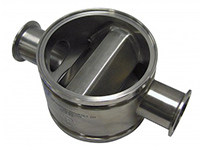 Plate Style Liquid Trap
Single Plate Magnet and Dual Plate Magnet Liquid Traps remove ferrous particles from viscous and fibrous liquids and liquids containing larger suspended solids. The traps are designed to deflect and direct contaminants against a magnetic plate located on the removable lids where they are captured and protected from the wiping action of the liquid flow. The lids are removed from the assembly for cleaning.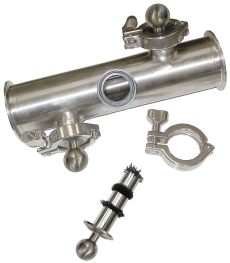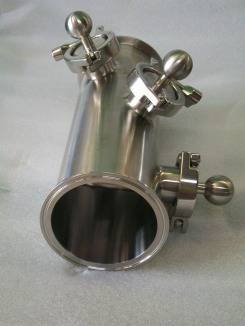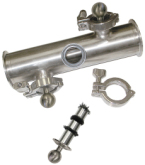 In-Line Liquid Trap
Magnetic In-line Liquid Traps have a straight-through design to allow liquids with a higher viscosity to travel easily through the trap. Available for 3" or 4" lines.