Drum Magnets
Drum Magnet Separators are designed for continuous removal of ferrous contaminants from High-Flow granular and Bulk Materials. They are used in Gravity Free-Fall applications.
If you are looking for Magnetic Head Drums for Conveyors, please refer to our Magnetic Separation Pulleys page.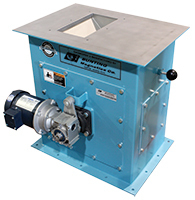 Drum Magnet in Housing
Drum magnets are available with or without the housing shown in the photo. When material flows onto the rotating drum magnet, a stationary magnetic assembly inside the drum's shell captures tramp metal and holds it securely to the drum's stainless steel surface. The good product falls freely to a discharge point. As the drum rotates, cleats sweep the captured ferrous debris through and out of the magnetic field and it falls away to a separate discharge area, creating continuous self-cleaning separation (see animation below).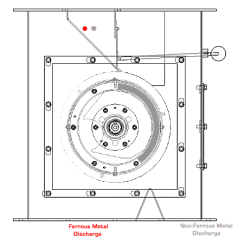 Drum Magnet in Housing Animation
This picture shows how Ferrous and Non-Ferrous material flows through the Drum Magnet Housing. Click on the image for the animation to start.
For full details visit the Bunting website.